Back To Blog
There are many different electronic garage door openers on the market. Some the leading brands are made by Genie and LiftMaster. These are considered household names in nearly 89 percent of homes across the country. There are other brands such as Stanley, Skylink, Multicode, HomeLink, Lenear, Carper, Moore-o-matic, and Digicode. Since there are so many out there, here are a few ways to help you compare openers.
Price of the Opener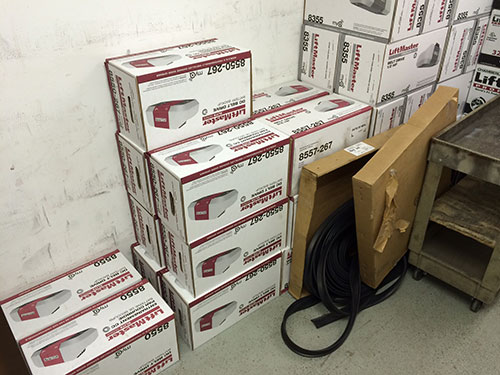 Most purchasing decisions are based on price, including garage door purchases. The price of openers alone is not widespread enough to make that the only factor for your decision. Other factors must be considered.
Security Provided
The garage door opener has gone through many changes over the years. They went from simply opening and closing the door to becoming a total security system with web based intelligence. The modern technology of openers has rolling code capability which scrambles the access codes each time the remote is operated. This prevents criminals from grabbing codes and retransmitting them. Liftmaster remote controls offer a temporary code option for friends
Manufacture Warranty
Almost all of the companies offer a similar warranty on their openers. Gennie and LiftMasterremote controls come with a lifetime warranty. Before buying, check with others who have used the product to find out which has the best replacement and protection options.
Opener Features
Features are a major factor when determining which garage door opener to buy. The stand feature includes a keyless entry wall mounted system with a remote control. They are all compatible with belt, screw, and chain drive openers. Some models come with a backup battery system which enables electronic access during a power outage. There also monitoring systems that are available with most brands alert the homeowner when the door is left open.